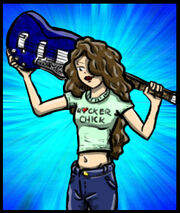 Emily "Ems" Bauer is the bass player in the Ecto-Coolers. She is also the Super Heroine Code Redd!
Ems met Jacky on an online dating website, and the two hit it off very quickly. After Kyle quit the Ecto-Coolers, Ems joined as an emergency back-up, as she was a very talented bassist. One day, Ems ran into Camilla, and did her best to comfort the troubled blonde, after she'd received a verbal lashing from Gila Consuelos.
At the end of Hawk & Croc Classic, Ems and Jacky moved in together.
Ad blocker interference detected!
Wikia is a free-to-use site that makes money from advertising. We have a modified experience for viewers using ad blockers

Wikia is not accessible if you've made further modifications. Remove the custom ad blocker rule(s) and the page will load as expected.